4 Simple Steps to

Easy Weight Loss

If

BMI is 27-70,

You are eligible for this treatment
Insert

Intragastric Balloon

Without Surgery
Remove

Balloon after 6 Months with

15-30 Kgs

of Weight Loss
Effective Weight loss Solution
Why you need a Silirus Intragastric Balloon System?
With use of the Intragastric Balloon System – Correction for Excess Body Weight, you can lose weight easily even if the diet or exercise alone does not work out. It helps you fight obesity and manage your weight easily and lead a healthy life.
Proven weight loss results


Non-surgical procedure


A feeling of satiety


Affordable
Simple process


Quicker recovery


No need to get hospitalized


Experience a better health and lifestyle
Steps To Healthy Life
Guidelines to Undergo this Procedure
1 of 5
BMI
The Body Mass Index or (BMI) is value derived  from the weight and height of a person.
It is used to categorise a person as underweight, normal weight, overweight, or obese.
If your BMI is 27 - 70 which shows obesity, you are eligible to undergo this procedure.
2 of 5
Age
There is a required age limit for the insertion of Intragastric Balloon System.

You must be above 18 years in order to undergo this procedure.
3 of 5
Surgery
This treatment for obesity requires no surgery.

Those who are unable to undergo a surgery, can go through this procedure without hesitation.
4 of 5
Ready for treatment
This treatment requires insertion of the Intragastric Balloon through an endoscopic procedure.

Those who are ready to undergo a temporary implant in the stomach with the Intragastric Balloon System.
5 of 5
History of surgeries
This treatment requires certain conditions in order to have an effective procedure.
Those who have undergone any stomach or esophageal surgery cannot undergo this procedure.
Effective Weight loss Solution
BMI Calculator
Check your BMI Now
Enter your height:
Enter your weight:
Your BMI is:
?
This means you are:
?
Contact Us!
For Product and Distribution
A Simple Endoscopic Procedure for Insertion of Intragastric Balloon System Non-Surgically
Just In 15 - 20 mins.
After you are sedated, the deflated gastric balloon is inserted through your mouth and your stomach with an endoscopic device.

The deflated balloon is placed in the stomach.

It is filled with sterile saline (400 ml - 700 ml) when filled, the balloon is about the size of a grapefruit.

Finally, the Intragastric Balloon is placed and removing the catheter, This balloon is placed in the stomach for a maximum period of 6 months.
Contraindications
Previous gastric surgery (includes any anti-reflux operation).


Hiatus hernia 5 cm in size or greater.


Significant coagulation disorder (blood clotting).


Potentially bleeding lesion of the upper gastrointestinal tract.

Pregnancy or desire to become pregnant, and breast-feeding.


Alcoholism or drug addiction or significant mental health problems.


Severe liver disease


Other incurable diseases
Weightloss Solution
The Most Effective Intragastric Balloon Ever
Silirus Intragastric Balloon System – Correction for Excess Body Weight  is a "weight loss balloon", a simple endoscopic procedure that kick-starts weight loss by inserting a soft, high-quality elliptical shape silicone balloon comfortably into your stomach. By taking up space in the stomach, the weight loss balloon gives you a sensation of being full, reducing the desire to eat. This makes diet control easier and weight loss manageable when combined with proper diet and exercise.
Look At The Difference


Before And After Procedures
Look the differences of using the Silirus Intragastric Balloon for yourself. See how the our product will help the lose your weight effectively.
View our


amazing photos in the gallery
Certified with
Excellence
Accel Medical is the authorised exclusive representative of Silirus Intragastric Balloon System for Correction of Excess Body Weight. We have also acquired the certificate of compliance from London.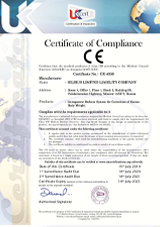 About Manufacturer
Great Results
Reap the benefits with Intragastric Balloon
Complications
Fewer Complications

No major complications

Minor Problems

Nausea, vomiting during the first week of application.
Contact Us!
For Product distribution & Doctor appointment
Our Business Partners