Flexible Digital Disposable Ureteroscope
No Repairs

Ergonomic Design

Superior Image Quality

Consistent Performance
Scope features CMOS camera for high resolution image quality with light weight ergonomic design for stone manipulation even in lower calyx with its 270 degrees of versatile tip deflection.
Features
Dual Light Source

9 Fr Outer Diameter

3.3 Fr Working Channel

Digital CMOS Imager


Integrated Camera Head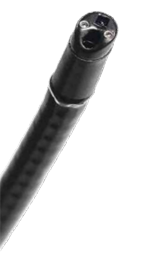 Features
Light Weight


Auto White Balance


110° wide FIELD OF VIEW


2 mm – 50 mm Depth of View


Logical Deflection System


Compatible with Laser Lithotripsy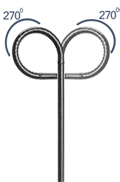 Versatile Tip Deflection
Convenient to reach each Calyx-Investigate with ease.
Contact Us!
For Product and Distribution
Technical Specification
Optical System
Field of View – 110°
Line of Vision- 0°
Depth of View- 2 mm – 50 mm
Illumination- Optical Fiber
Imaging- Digital CMOS Imager
Insertion Portion
Deflection of Tip- >270° up; >270° down
Diameter – 7.5 Fr
Working Channel – 3.3Fr
Working Length- 670mm
Deflection Mechanism- Logical Deflection System
Control Unit
Control Unit Features
Plug And Play For Easy Setup
Built-in Light Source
BNB For Sub Mucosal Vascular Imaging
USB 3.0 For Direct Recording
Multiple Video Output
Control Unit Specification
Storage / Data Transfer- USB 3.0
Image Functions- White Balance, Brightness Control,
Image Capture, Video Capture,
Vascular Image Enhancement.
Brightness Temperature- 5000 K- 6500 K
Video Connections- SDI, DVI, and HDMI
Power-100 V AC – 240 V AC
Frequency – 50Hz
Lamp- 60 W LED
Image Resolution- 1920 X 1080 HD
Our Business Partners